The Artist

Hello, I'm Graeme Browning. I'm a serving firefighter with over 30 years' operational experience both retained and wholetime.

| | |
| --- | --- |
| | I've always been a keen artist and spent much of my early career as an engineering draughtsman. In latter years I started to put this interest to good use by doing retirement posters and pictures for colleagues and Christmas cards for the watch. The interest this has generated has resulted in regular retirement commissions for colleagues in the Fire Service and other Emergency Services, as well as watch pictures for the station wall. |

The Creative Process
Here is a series of photos showing the development of my most recent Greeting Card design from initial draft and inking in, through the colouring stages, adding contrast and highlights and final tweaking.
I usually take photos as the picture develops to enable me to review and see how the composition works - for some reason I find it helps, plus I can share with friends and family to get feedback.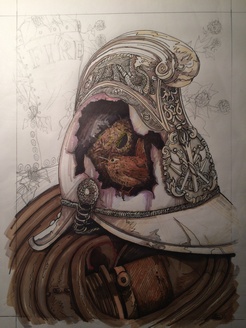 This composition fits in with my Greeting Cards theme of British wild birds in a Fire Service environment. My earlier drawings generated over a number of years used coloured pencils on black paper which helped to emphasise the colours.
More recently I've taken to using Promarkers on a pen and ink image, this is a media I've found I can work well with - old colleagues from my previous career will recall my profuse use of highlighters and 'technical' marker pens to convey design concepts and manufacturing details to customers and manufacturers.
I will sometimes resort to cut and paste to get a draft format and make sure things work, and I've also had to paste in the 'odd' overlooked colleague or friend on a few retirement pieces - another skill that I became practiced in during my earlier career!
There's a larger version of the final image on the Greeting Cards page.

I initially posted the above images on Facebook to share with friends and got some good feedback and suggestions for ideas, so I will probably do the same for some other designs in the future.